If you love to dine at our very own Porches Cafe, then you'll be excited to know that hours have been EXTENDED and a NEW dinner menu is now available! Just in the time for the end of summer and start of fall, dining at Porches Cafe for dinner is the perfect way to celebrate shorter days and longer nights at River Bluffs.
Open Later for Dinner
Dinner hours at Porches Cafe have moved from 7:00pm to 8:30pm, Sunday through Thursday, and 9:00pm on Friday and Saturday. The later hours provide residents and guests even more time to settle in after a busy day and join us for a great meal. Evenings are simply beautiful at River Bluffs too. With new later hours, you can watch the sunset from the banks of the river, have a tasty meal and cocktail, then head back outside to walk the trails or Riverwalk – a perfect way to digest.
New Dinner Menu Options
To celebrate the extended dinner hours, Porches Cafe has also rolled out an updated dinner menu with lunchtime favorites alongside new appetizers and entrees. Enjoy a cheese and/or charcuterie plate, squash and chevre tart, Thai crab gratin, and pulled pork sliders, before diving into homemade meatloaf, peel and eat shrimp, Sicilian pizza, spring chicken, and shakshuka – all available now till 8:30pm Sunday-Thursday and 9:00pm on Friday-Saturday.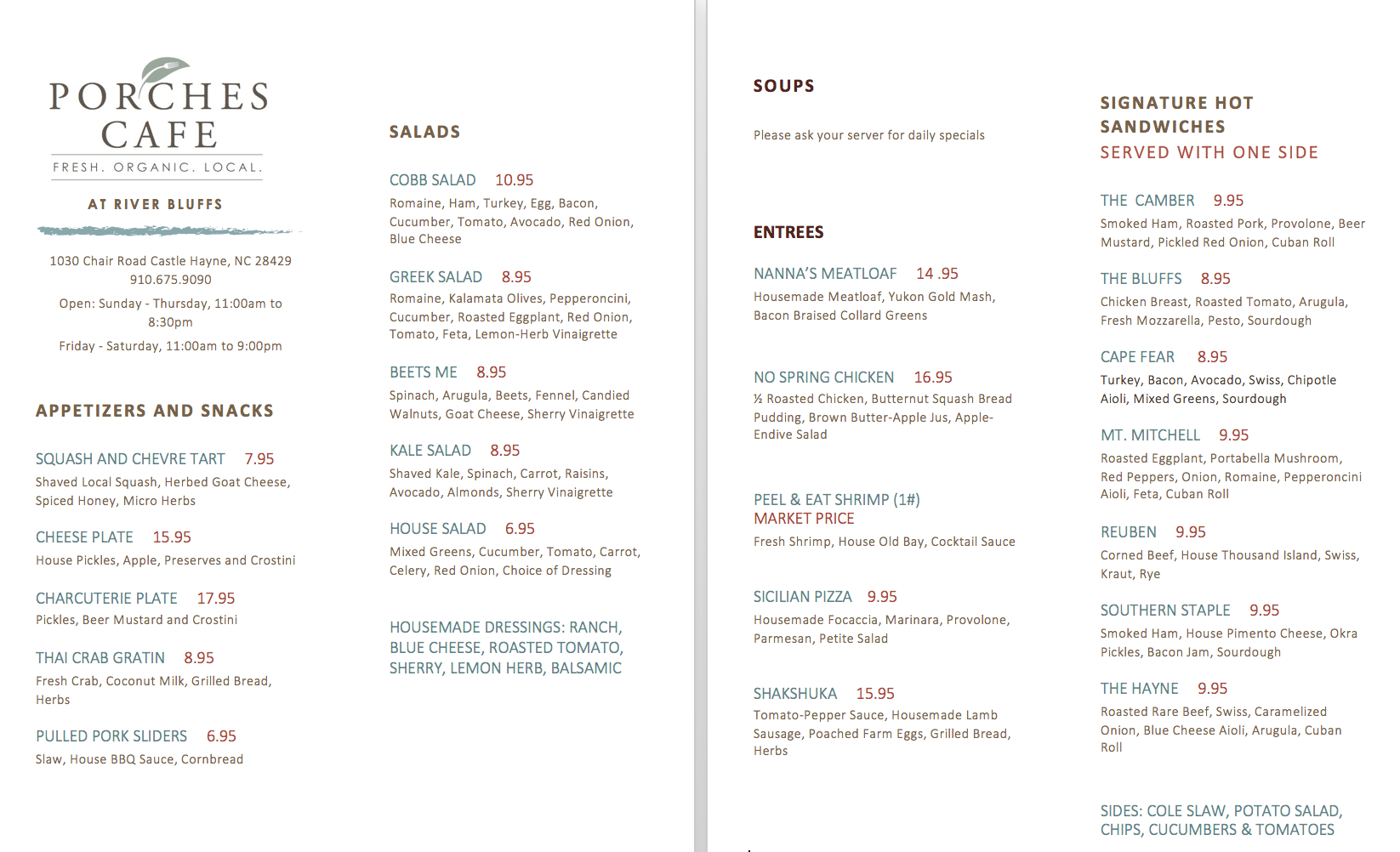 Stay updated with Porches Cafe specials and events by visiting their Facebook page.