The Port City Marina and River Bluffs community are teaming together this summer to bring Wilmington, N.C. residents and tourists even more access to the area's two beautiful rivers, the Cape Fear River and the Northeast Cape Fear River. Both waterways are beautiful and ideal for enjoying a variety of outdoor sport activities, making it the perfect location to boat, kayak, stand up paddleboard, and fish.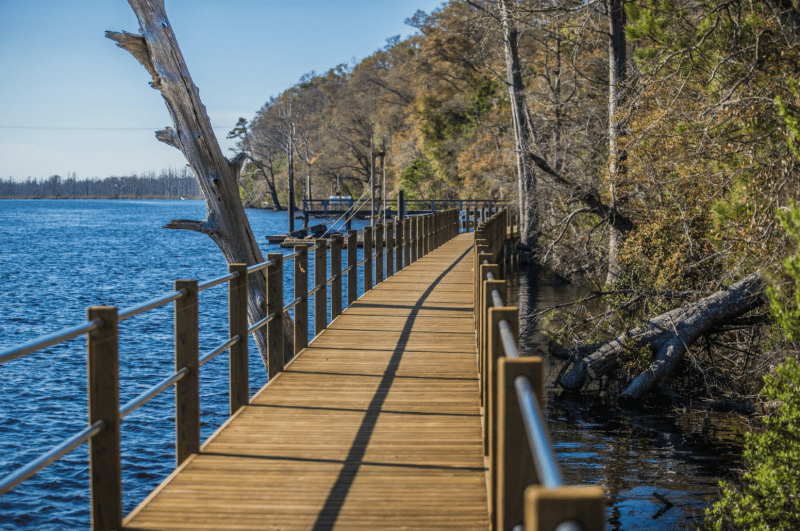 Stroll the River Bluffs Riverwalk
To provide riverfront access to all residents, the River Bluffs community has made tremendous progress on the construction of a 2,500 foot long, 6 to 10 foot wide Riverwalk and Marina due for completion this summer. This impressive riverfront amenity is a joint construction effort by Bellingham Marine and Atlantic Coast Industrial, following the development of a CAMA approved 'living shoreline' along the bluffs. The living shoreline consists of nearly 10,000 vegetation varieties, hand-planted directly into the 25 to 45 foot tall bluffs on the river's edge, designed to to reduce environmental erosion and prevent runoff from heavy rain. When finished, the Riverwalk will provide homeowners and visitors a half a mile of scenic walkway elevated over the water. Connected to the Riverwalk, River Bluffs is also building a 141-slip Marina, which will offer residents of the community an easy and convenient option for boat storage and docking for visitors.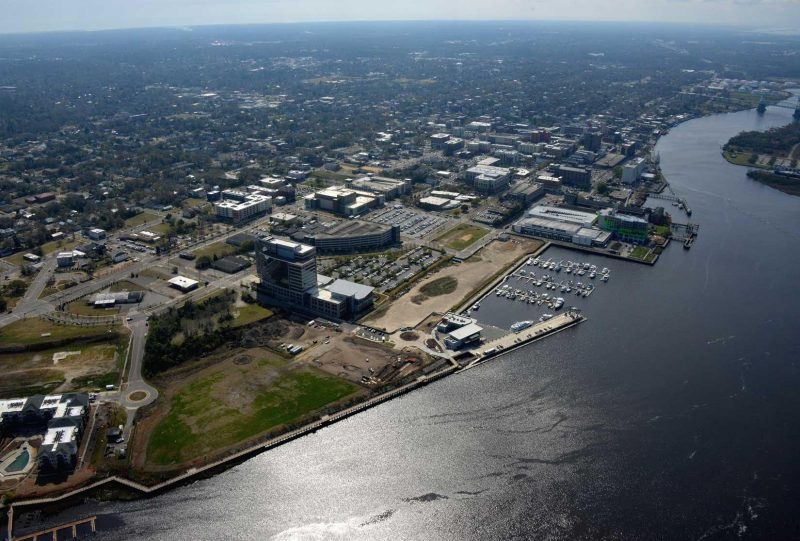 Fuel up and Dine at Port City Marina
A smart spot to fill your boat with fuel, dock, and explore Historic Downtown Wilmington, the Port City Marina will soon feature two new restaurants, Blackfinn and Vida, offering boaters classic American and modern Mexican cuisine right on the water. Perfectly positioned in the heart of Downtown on the Cape Fear River, the Port City Marina is just 15 to 20 minutes from River Bluffs by boat, making it the best place for community residents and guests to stop when boating to Downtown Wilmington, NC. Alternatively, Port City Marina guests are also welcome to get away from the city and visit River Bluffs to stroll the Riverwalk, explore the many scenic trails available, grab a bite Porches Cafe, or enjoy a personal tour of the neighborhood.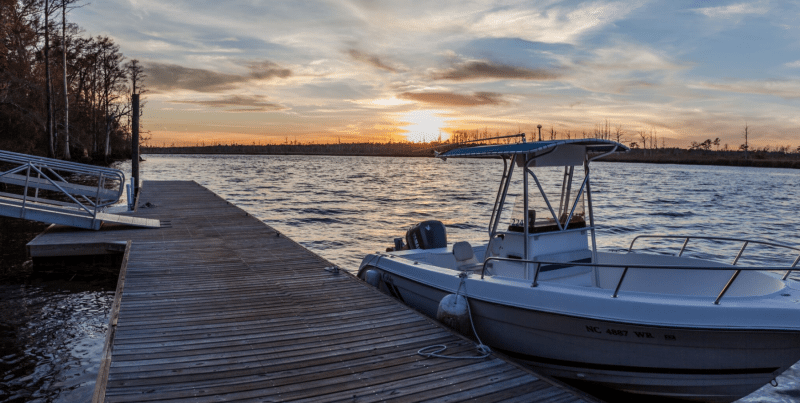 Be Part of the Riverfront Experience
Join all the excitement happening along the Cape Fear River this summer by exploring River Bluffs and the Port City Marina while enjoying time on the water. No boat? No problem. Wilmington Water Tours provides a variety of river tours and a river taxi service from Downtown Wilmington to the River Bluffs community. River Bluffs is proud to be working with Wilmington Water Tours, and is excited to share these upcoming tours and events:
The Blackwater Adventure: This is an educational tour from Downtown Wilmington to River Bluffs. It leaves weekly on Friday and Saturday mornings at 10:00 am and returns to Downtown at 12:00 pm.
Picnic Trip to River Bluffs: Catered by Bon Appetit, this tour will leave Downtown Wilmington Thursday, April 6 at 9:00 am and return at 12:00 pm. Enjoy a touch of river history and ecology, see the birds and nests along the river, then a walk the Riverwalk at River Bluffs.
Historical Walking Tour with Chris Fonvielle: Chris is a renowned historian and UNCW professor. He will host a historical tour of the Northeast Cape Fear River and a walking tour with a history lesson which includes the River Bluffs Cemetery on Sunday, April 30. Tour times will be released soon.
Downtown Wilmington, N.C. continues to grow and expand on the river, making this year the perfect time to discover this developing Cape Fear River community.
---
About River Bluffs
River Bluffs is a gated riverfront village, located along the banks of the Cape Fear River, just minutes from Downtown Wilmington, N.C. Visit us for lunch and dinner at Porches, our community cafe, or schedule a personal tour of the neighborhood.
riverbluffsliving.com | 1100 Chair Rd Castle Hayne, N.C. 28429 | 910.623.5015 | marketing@riverbluffsliving.com
About Port City Marina
The Port City Marina is a protected, deep water full-service marina in Downtown Wilmington, N.C. Equipped with state-of-the-art floating concrete wet slips for boats and boaters of all types, the marina is the perfect place to dock, dine, and explore.
portcitymarina.com | 10 Harnett St Wilmington, N.C. 28401 | 910.251.6151 | mattr@usainvestco.com
About Wilmington Water Tours
The 49 passenger tour boat "The Wilmington" operates daily for river tours, education programs, and events. Wilmington Water Tours also offers a taxi service, called the B-Line. Find out more about schedules and taxi services online.
wilmingtonwatertours.net | 212 S. Water St. | 910.338.3134 | info@wilmingtonwt.com