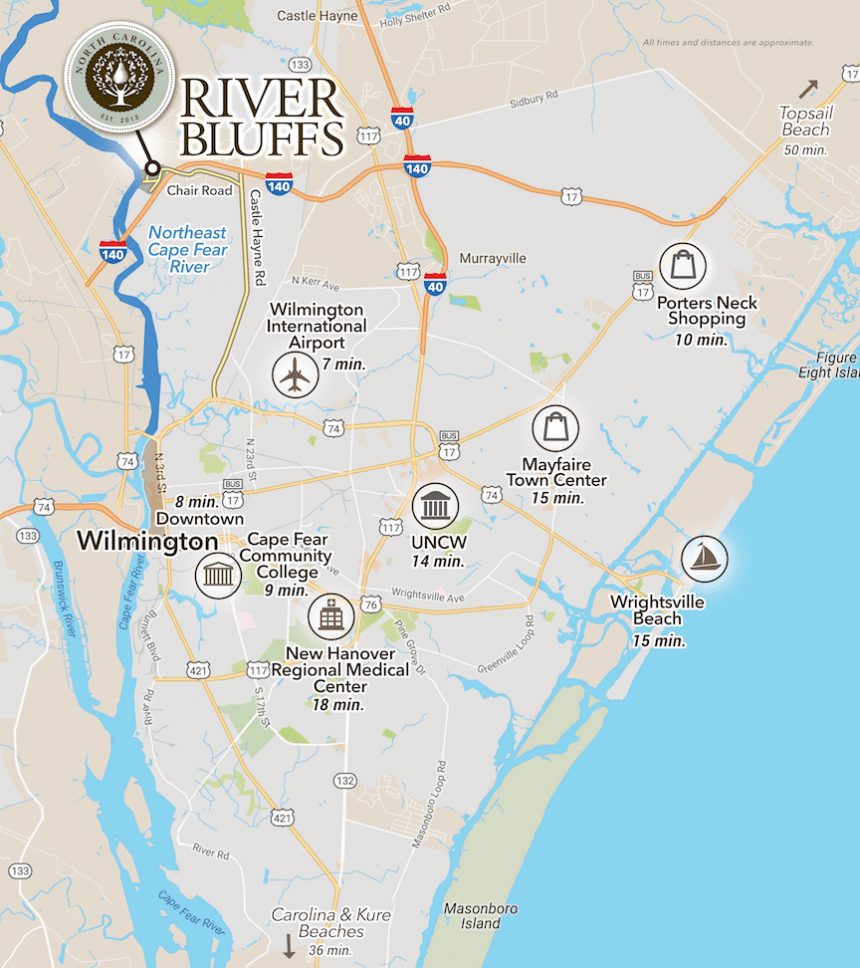 Fact! One of River Bluffs' residents leads tours on the Battleship North Carolina. River Bluffs partnered with Wilmington Water Tours to shuttle residents down the river to tour the ship with the resident guide. Events like these are what make River Bluffs genuinely unique.
River Bluffs is just 10 Minutes to Downtown Wilmington, NC
By boat or car! Neighbors enjoy access to a variety of wonderful dining options, theater, shopping, medical facilities, universities and area beaches.
Wilmington, NC, named a Distinctive Destination City by the National Trust for Historic Preservation, is one of North Carolina's most popular destinations. Wilmington was incorporated in 1739 and is nicknamed The Port City because of its coastal location directly on the Cape Fear River, which opens into the nearby Atlantic Ocean.
Historic downtown Wilmington hosts a variety of truly magnificent historic venues such as Thalian Hall, a 155-year-old landmark theater located in the heart of downtown, delightful and delicious restaurants, a scenic riverwalk and numerous unique shopping experiences. Market Street adjoins downtown to Wrightsville Beach, NC and showcases historical architecture from the time Wilmington was founded, featuring landmarks like the Bellamy Mansion and the Cape Fear Museum.
The Battleship North Carolina is docked in the North East Cape Fear River harbor and serves a permanent exhibit and Memorial for World War II Veterans. The ship was decommissioned June 27, 1947, and berthed in Wilmington in 1961. Daily tours allow visitors to experience life aboard a historic battle vessel.
Explore The Wilmington Area
Battleship North Carolina
Bellamy Mansion
Fort Fisher
Airlie Gardens
Cape Fear Museum
Thalian Hall
NC Aquarium
Legion Stadium
UNCW
The Perfect Region
Our Great Southeastern North Carolina location is the central hub of the east coast, both past and present.
The excitement of Raleigh, NC, and Charlotte, NC are just a short road trip away. Enjoy dozens of museums, theaters and professional sports venues – these metropolitan areas are rich with culture, shopping, and fine dining! Moreover, both are conveniently accessible by major interstates I-40 and 74/76, with River Bluffs only 3-minutes off of Interstate 140.
Visit the NC Tourism Website