What Questions Should I Ask My Home Builder?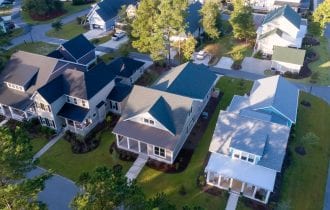 The time has come for you to find your piece of paradise by buying a custom home at River Bluffs. Our sales team will work with you and one of our seven select builders to find the right custom home or floor plan for you. While we do our best to make it easy, you'll want to stay engaged in the process. So, what should you do? What questions should you ask your builder? It's important to know what you need to ask—your home is likely your biggest purchase, and it's the setting for the next chapter of your life. Here's a list of some questions our residents have found helpful in the past that should get you started.
What Is Most Important to You and Your Family? 
Let's start with the big one: what really matters to you and yours? What are the most important features your home should have? A big kitchen, outdoor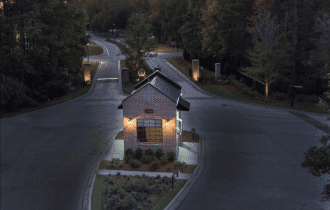 spaces, or a large garage are all common answers. Some folks like open floor plans, others prefer a bit more privacy. Some residents are particular about the outward appearance of their home and its landscaping. There's no wrong answer, but you should take some time to work out a prioritized list of what matters most to you. At River Bluffs, we'll help you find the right custom home or floor plan to make your vision a reality.
Are Special Needs a Factor?
All of our residents have their own needs, but some of us have additional requirements due to age or disability. Some of us are entering our golden years and may need extra support in the future. This varies from person to person, and your situation will be unique. So if you'd prefer a single-level residence, wider doorways, or lower kitchen counters, let us know, and we'll work with you and our builders to find the right solutions for you.
What About Pets and Guests?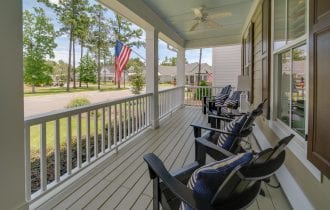 Anyone who lives in the Cape Fear region knows that a home near the beach guarantees visitors every single summer. For retirees, having their children and grandchildren visit can become a tradition. And for all of us, pets are a joy at any stage of life. At least a few of these things are likely happening for you, and you should incorporate them into your choice of home. 
Think about how many visitors you're likely to get, how often you'll get them, and what their needs will be. The same applies to pets: how many you'll have and how much space they need can vary. Folks with dogs may prefer a more open floor plan and lots of window space, while those of us with cats may have different needs. For two-legged guests, extra bedrooms or bathrooms might make things more comfortable, and an outdoor shower makes cleaning up after a day at the beach a snap. Once again there's no wrong answer, think about what you might need, and we'll help you find the right solution.
What About the Kitchen?
Your kitchen is the most essential room in your home. It is the heart and soul of your house, and a special place to gather and enjoy good food and good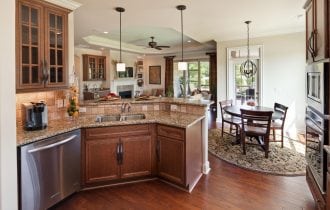 company. Everyone has their own ideas of what constitutions a perfect kitchen, and our experienced builders have worked with thousands of clients over the years to make those visions a reality. Whether you're building a custom home at River Bluffs or selecting one of our diverse floor plans, you'll end up with a kitchen that is truly something special.
What About Outdoor Spaces?
The Cape Fear region abounds in natural beauty, great weather, and splendid sunsets. For many folks who live here, a home that incorporates outdoor space is a must. At River Bluffs, our builders understand this and offer both custom homes and floor plans that make the most of their outside spaces. The classically Southern front porch reigns supreme, back patios abound, and many of our homes incorporate additional side patio spaces. For the hobbyists among us, sheds and garages are also options giving you room to pursue your passions. Whatever vision of outdoor living calls to you, we'll help you get there.
What About Location?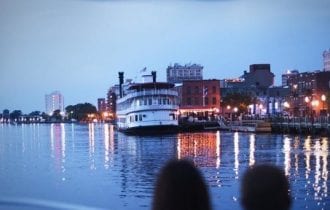 Your physical home is important, but what about the other, less tangible things that a good location gives? Access to the river and the beaches, nearby entertainment and dining options, and ease of travel are all key considerations. Additionally, life in a wonderful community of neighbors gives you friends to enjoy these things with. This may sound like a tall order, but at River Bluffs, we've brought all of it together for you. So don't be afraid to take the plunge on a custom home or floor plan. Our team, our builders, and our community will make every step of the process easy and fun!