A Community Where Residents are Committed to Public Safety and Readiness
Ready to move into a new home or relocate to North Carolina? It's best to start by evaluating neighborhoods and considering the benefits of living in a gated community. For growing families with young children, gated communities provide parents added safety and peace-of-mind while the kiddos play outside. For working professionals and seniors enjoying retirement, there is a greater sense of security, comradery, and less stress that comes with living in a gated community. Fortunately for our mix of local Wilmington and out-of-state residents, River Bluffs is a premier riverfront gated community with smart security features and innovative neighborhood resources in place from the water to the road. 
A Community Watch Program on Steroids
At River Bluffs, we decided to take our community programs to the next level – empowering residents to take active roles while providing the technical resources required to get it done. To set this initiative in motion, community developers and neighborhood residents collaborated to create and launch over thirty new, resident-led social clubs. Each club has a different objective and interest, with neighborly options such as Community Watch, Handyman, and Investment Club or recreational choices like Movie Night, Boaters, and Foodie Group. Managing the resident groups is a breeze with our online resident portal, allowing group leaders and members to sign-in, send email alerts, and organize club meetings or events. 
Within the Community Watch group, we are lucky to have two neighborhood safety representatives that manage and lead our security efforts as a gated community by the water. Residents of River Bluffs, Jane Love and Allan Morris, are also graduates of the New Hanover County Sheriff's "Citizens Academy" which exposes participants to the different aspects of law enforcement, provides response training to threatening situations, teaches neighbors to watch out for each other, and to report unusual events to the 911 system. An educational 10-week course, the Citizens Academy equipped Jane and Allen with specialized skills – everything from detective work to vice operations, animal control to active shooter responses – all of which help keep our community safe and secure. Committed to the approach of crime through "community policing," River Bluffs helps recruit students for this program with several resident graduates who are now volunteers for the Sheriff's Department.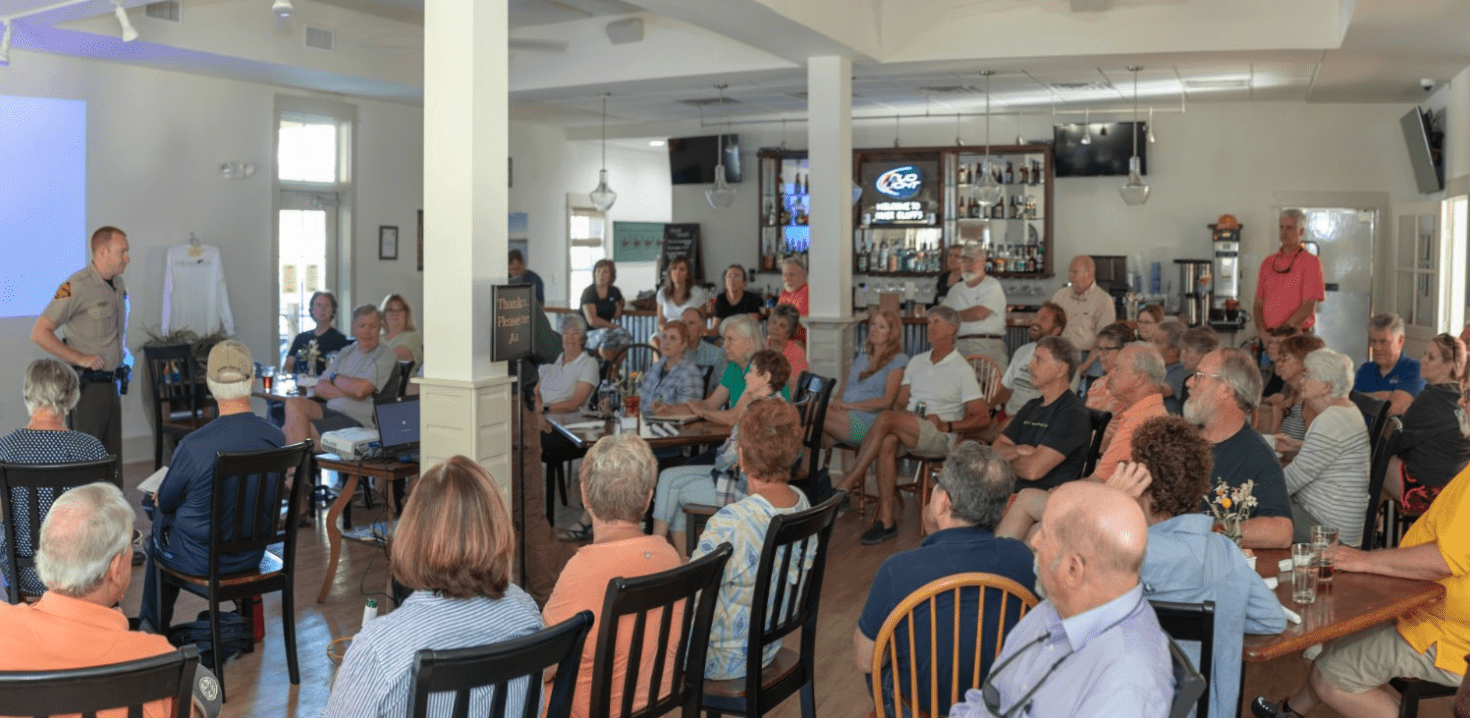 Sheriff's Academy – Is It Right for YOU?
By Jane Love, River Bluffs Resident
Do you enjoy watching TV shows like NCIS, Blue Bloods, Law and Order, Cops, or programs that feature police work? Do you find yourself drawn to news accounts of crime and punishment? Do you wonder whether these shows and news stories represent real law enforcement work, especially in New Hanover County? 
If so, the New Hanover County Sheriff's Office (NHCSO) "Citizens Academy" might be the experience you've been waiting for. And now is the time to act because the Fall 2017 session of the Academy is accepting applications. Here are the details. 
What is the Citizen's Academy? It's a free series of educational sessions, held one night per week for ten weeks, for county residents to learn about various Sheriff's Office Programs. Each session highlights a different aspect of the Sheriff's Office mission and is presented by Sheriff's Office personnel or county officials. The classes cover a wide range of activities, to include crime scene investigations, detective work, the prosecution and defense roles in a criminal trial, vice and narcotics control, the K-9 unit, emergency response, and special weapons teams, and the confinement facility.    
When and Where Does It Take Place? The classes run from 6:00 to 9:00 pm on Tuesdays. The first few classes take place at the Sheriff's Department Headquarters (located off Blue Clay Road in Castle Hayne), while subsequent classes are held at other locations around town. Participants receive detailed directions to each class site. Other than the cost of personal transportation, there are no fees or expenses for participants. 
Who can apply? Any New Hanover County resident who meets certain basic criteria, including a clean criminal record (no felony convictions or misdemeanor convictions involving moral character) and a genuine interest in local law enforcement. Applicants must be willing to undergo a background check of their driver's license records and accept exposure to possible graphic content during course presentations. The application form can be obtained from the NHCSO website or by contacting the program manager (listed below). 
Why Should You Consider the Sheriff's Academy? The main goal of the Sheriff's Academy is to increase the county's understanding of their law enforcement community, to include the challenges and issues they face. Participants also learn about the dynamic relationship between the government and citizens and demonstrate how people from all walks of life are working together to address serious challenges to our community.
What are the Classes Like? Well, if you love dry PowerPoint presentations, you'll be disappointed. Academy classes are designed to be interactive and engaging. Each class describes a different aspect of the Sheriff's operations and then brings in experts to explain their work. For example, you will see the forensic labs and criminal response teams as forensic teams describe how they analyze crime scenes. You'll see the helicopter, motorcycles, boats, cars, and boats explained by the officers who use them. You'll learn tips on protecting yourself from cybercrime or fraud. You learn how to obtain a gun permit and how it differs from a concealed carry license. You'll see a mock trial staged in a real courtroom by a real judge, prosecutor, and defender. You'll tour the confinement facility and talk to the officers who keep a 24/7 watch. You can "ride-along" with a Sheriff's deputy as he or she performs an ordinary shift. And you'll get insight directly from Sheriff McMahon and his senior leadership team on the challenges they face every day.      
Okay…But Really, Why Should I Consider this Program? Your time is valuable…why spend it on this program? Well, if you are interested in the challenges facing New Hanover county, the Sheriff's Academy gives you real insight that you will not find anywhere else. Or If you are curious about how the county is addressing its serious problems, such as unchecked population growth, gang activity, drug abuse, domestic violence, and even terrorism, you'll get a reality check on their impact. But you will also hear from personnel who are developing and carrying out sophisticated programs and applying state-of-art resources to address these problems. In short, the program offers a behind-the-scenes view into law enforcement that few organizations are willing to share. 
Since no neighborhood is crime-proof, our Community Watch program occasionally holds onsite meetings so that residents can speak directly with local deputies. Remember always to select a gated community like River Bluffs – where you and your family feel safe, comfortable, and secure in your new home and neighborhood. 
River Bluffs Neighborhood Safety Slogan: "When in doubt, point it out!"
The More You Know, The Better
Our gated community is committed to safety and continued learning with fun, educational seminars that keep residents well informed and in the know. For example, we recently welcomed the North Carolina Wildlife Resources Commission for a lunch-and-learn presentation on the various wildlife species we can expect to see and interact with along the Cape Fear River. Residents gathered to listen to Mr. Chris Kent, an NC wildlife biologist, and Officer Murphy Hall, a wildlife resource officer, review all the types of insects, rodents, reptiles, and mammals that live in harmony with us at River Bluffs. Kent and Hall also detailed the best way to deal with each species when a critter contact happens.
We share River Bluffs with a range of natural species to our area, such as:
To ensure these animals continue to call our private gated community home, residents agree to safe wildlife practices. As a general rule, we encourage everyone living or visiting River Bluffs to not interact with our natural wildlife (even the cute ones). River Bluffs is proud to be surrounded by nature with an abundance of wildlife, flora, and fauna that is native to North Carolina and the Cape Fear River region. 
Emergency Ready Neighborhood 
In the event of a crisis situation, our gated community is prepared and ready to jump into action. Since we have strong Community Watch ambassadors and residents, like Jane and Alan, River Bluffs has a great relationship with our local emergency response agencies. Emergency personnel visits our gated community regularly to ensure they are familiar with our streets, addresses, and neighborhood layout. This includes testing and ensuring their 24-hour access to the community is operating and working smoothly if a real crisis happens. 
For added emergency protection, we keep a defibrillator in a central location all residents can access: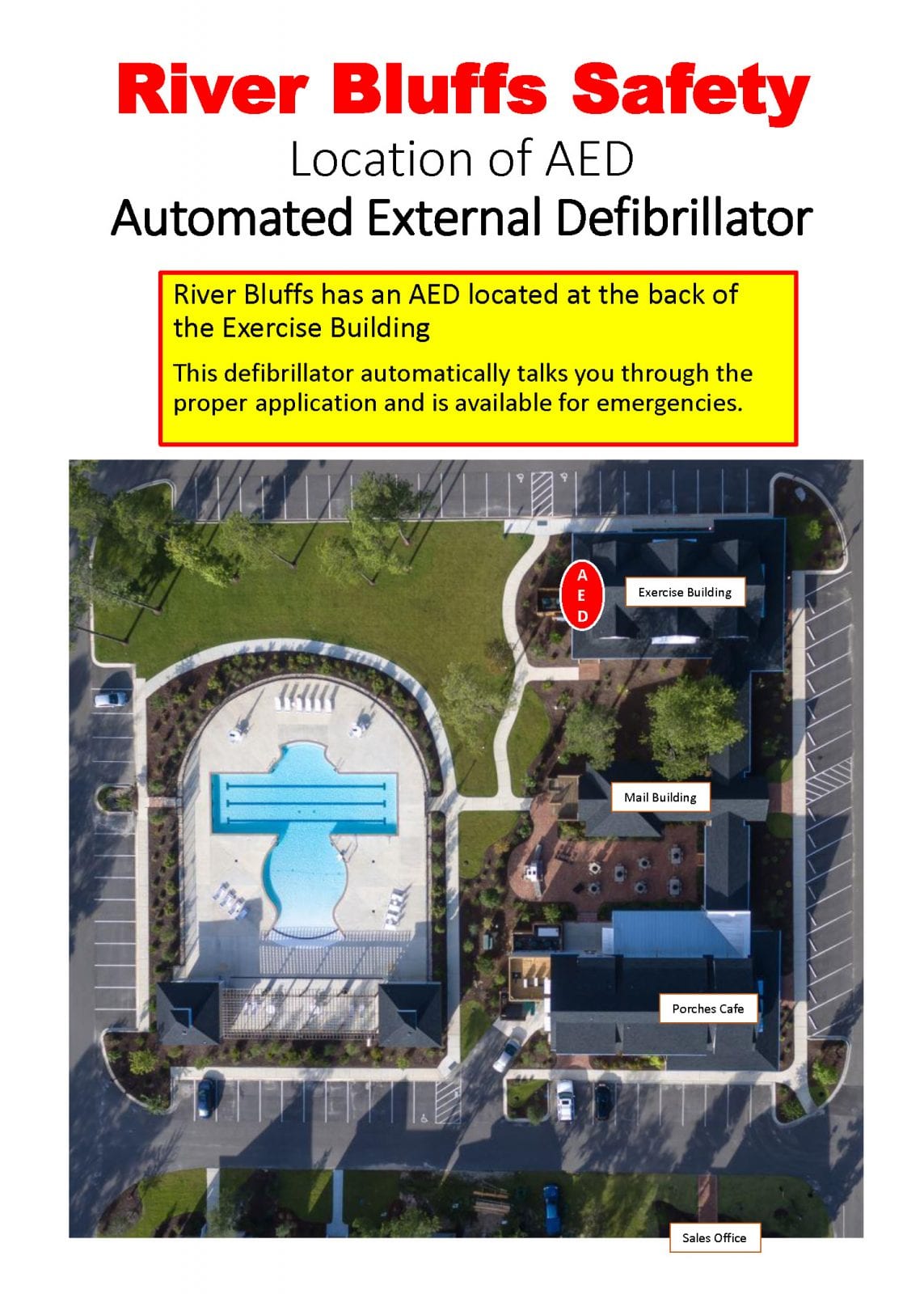 Since River Bluffs is a riverfront boating community just 10-min north of Wilmington, North Carolina, we also practice and preach boater safety when spending time along our Riverwalk and Marina. No matter if you are experienced in the water or new to boating, our neighborhood makes it easy to enjoy life by the water. For example, local law enforcement – which has open access to our boat ramp – provides residents educational boating classes directly on our dock. We're also lucky to have Otis White, another stand out River Bluffs resident, who is involved in the Coast Guard Auxiliary and capable of coordinating safety inspections for your boat. 
Key Safety & Security Benefits at River Bluffs
We work diligently to maintain our neighborhood security and safety, with great residents, educational programs, and neighborhood policies in place to support our efforts. River Bluffs is a top gated community in North Carolina and smart choice for local Wilmington natives or out-of-state explorers ready for a new home. 
All points of entry and community amenities are monitored with security cameras. You can rest assured that everyone coming and going from our gated community is caught on camera. 

Community gate greeters are at the entrance full-time through daylight hours. Friendly, informative and happy to help, our greeters can handle all your guest or special requests.

Limited gate access at night, with private coded entry by residents and guests only. Keep in mind: emergency personnel has 24-hour access to our gate in the event of a crisis.

Regular visits and excellent relationships with local health and wildlife responders. This includes the Sheriff's Department, Fire Department, and Emergency Response Services.

Active and trained Community Watch Program. We're proud of our resident Civilian Academy graduates and the close relationship with the New Hanover Sheriff Department. 

Access-controlled amenities, with key code entry by residents and guests only. From the pool and 

fitness center

 to the outdoor courts and oversized vehicle and boat lo, we are secure.

Smart signage outlining restrictions and warnings. We make it easy to find the information you need when you need it with clear safety signage at the Marina, pool, and storage lot.

Weekly community-wide updates that feature safety updates. Our weekly meetings bring us together as a neighborhood and keep us safe as a gated community.
Visiting River Bluffs but not sure how to get past our gate? First-timers are encouraged to make an appointment first, then stop at The Sales Center to connect. If you've been to the community before, simply provide a call ahead and we'll let the gate greeter know.
*Special thanks to Jane Love, Allan Morris, and Otis White for being exceptional residents of our gated community. We appreciate your contributions to this neighborhood safety and security blog.