At River Bluffs, we're proud to welcome families, professionals, and retirees from around the country and all over the world to the Cape Fear region.
For many of our residents, life at River Bluffs their oasis just north of Downtown Wilmington and only 15-min from the Carolina Coast. We strive to make southern living easy and enjoyable, offering a friendly neighborhood in the perfect location to explore all the wonders this part of the world has to offer. If you're new to town, we're here to make the transition easy and fun as well by giving you ways to learn about our community and get a feel for all that River Bluffs offers. This blog is part of that introduction, as is the rest of the content of our website and our friendly, helpful staff. We do however offer another tool to help you get to know us and our community: the interactive map we include on our website. We intend this tool to be used by both guests/new arrivals and longtime residents—you'll see why as we explore it together in this blog. We're here to show you how the map works, how you can use it, and how to make the most out of its various features. So, if you're ready for a digital adventure, we'll jump right in!

Click the map below to see the interactive version of the map open in a new browser tab!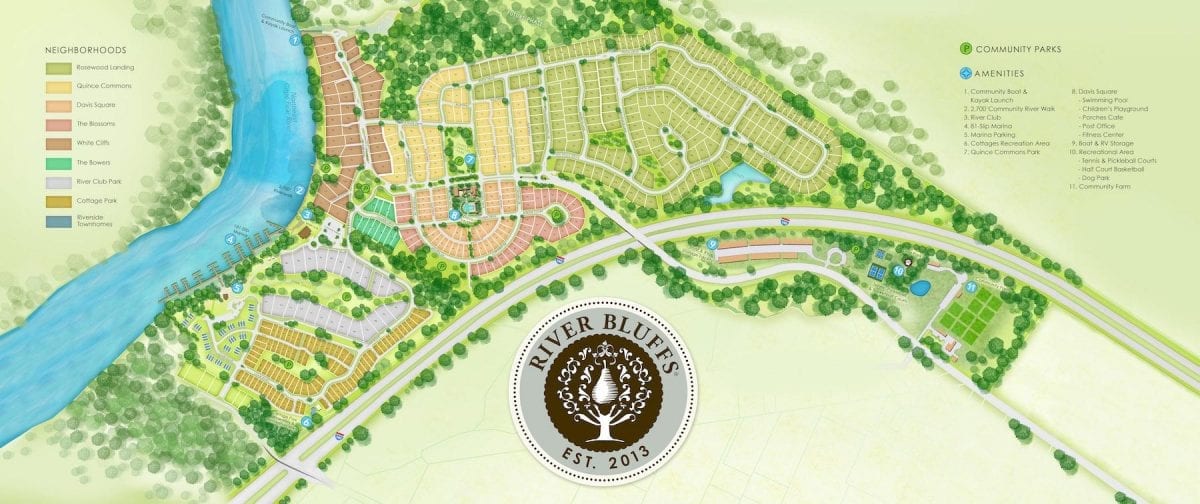 An Interactive, Online Guide
When you arrive at our online interactive map, the first thing you'll likely notice is the layout of our community. Nestled atop our namesake bluffs overlooking the Northeast Cape Fear River, our tree-lined streets are bound by woods and water, giving you equally easy access to our Riverwalk and marina and to the interstate and the wider world beyond. You can see the balance we maintain between peaceful Southern coastal living and proximity to the beaches, cultural events, and nightlife that define our region. You'll see that there are no through-streets in River Bluffs; we're our own enclave; isolated from the hustle and bustle on the outside. Close to everything, but a world apart; that's part of what makes River Bluffs so unique.
Now that you've gotten a bit of a feel for the shape of our community let's take a look at some of the features within the map itself. If you look to the right-hand side of the map, you'll see a couple of options like drop-down menus. Click on the one labeled "View Amenities," and you'll be greeted by a drop-down menu revealing all of the features we offer for our residents and their guests. As you click on various options, they'll be shown/highlighted on the map itself. You can use this feature to discover our multiple outdoor spaces: the Riverwalk, the marina, our network of hiking and running trails. You'll see our recreation spaces, open to all of our residents, and our community farm—a unique feature for any community in the region. 
Our community center—located at the core of River Bluffs—offers features to enhance your professional life and networking, while nearby Porches Cafe features some of the best culinary talents in the region and offers fresh, locally-sourced food every day. Whatever you're looking for in your new home, River Bluffs has it, and our interactive map will help you find it once you're here and get a feel for it if you're still considering the move.
If you return along with us to the drop-down menus on the right of the map, we can close the "View Amenities" menu and move to the "View Listings" menu. Open that, and you'll again see several drop-down options, which will guide you through the process of finding your new home at River Bluffs. From there, you can shape your search for the perfect River Bluffs property for you. You can browse by listing—looking at existing homes for sale in our community—or you can search for the right lot to serve as the site of your custom home. You can meet our builders and learn about their experience and approach to home building, helping you choose the right builder to craft your new house. You can also review homes by property type, finding the right combination of size, features, and location for your needs and budget. Our interactive map is flexible, easy to use, and can save you a lot of time while looking for your perfect River Bluffs home.
River Bluffs Is Waiting For You
We want you to get to know us because we believe that as you learn more about River Bluffs, you'll discover how our community may be the right setting for the next stage of your life. Whether you're a young couple looking for your first family home, a professional relocating to the region, or retirees planning your next grand adventure, River Bluffs features something for everyone. Take some time to explore our interactive map and get to know us, and then get in touch. Come by and enjoy lunch at Porches Cafe, and then meet with our helpful sales staff who will help you finalize your transition to River Bluffs. Our community is waiting for you, and we can't wait to welcome you home!