New Homesites Available! 
River Bluffs is more than just another residential development—it's a gorgeous riverfront community of friends and neighbors who are bound together by a common lifestyle and common interest including an appreciation for the natural beauty of our setting. 
As a community, we're growing and encouraging you to take a look at our available lots and make your decisions as soon as possible. There's still so much potential for you to find the exact right setting for your new home—but the window is closing fast. Here's what you need to know to help you make that decision and find the right setting for your new River Bluffs home.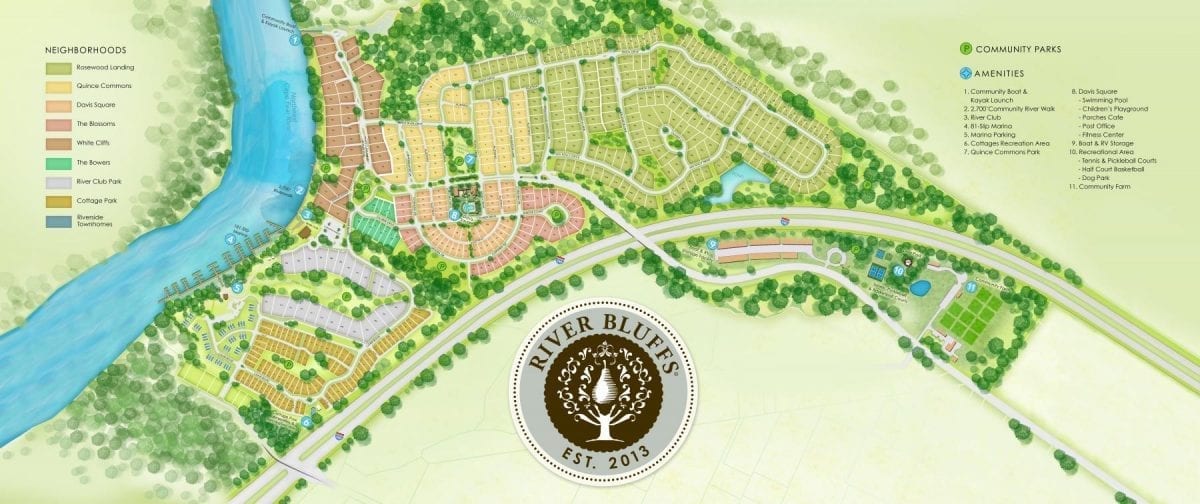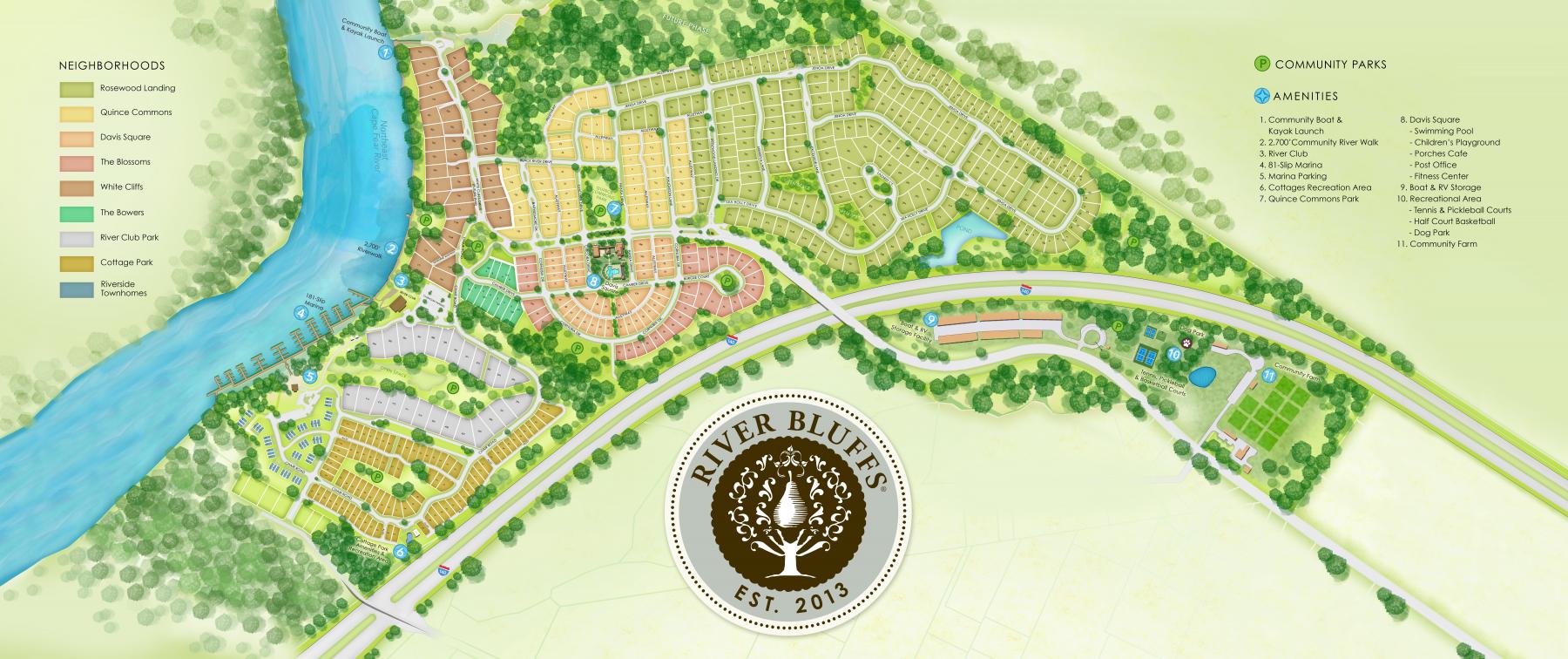 Let's Look at Your Options
The first thing to do is to get more familiar with River Bluffs—it's a neighborhood of neighborhoods, giving you a host of options as to where you might want to live. From the tree-lined streets bound by Carolina woods and our open park public spaces, to the bluffs over the river from where our name originates, each River Bluffs home section has a unique feel and personality. Which one is right for you depends on your needs. Take some time, look at the map, and maybe come visit us—we can show you around and help you get a better feel for the place!
We'd like to mention our Cottage Park neighborhood – our most affordable option. A quaint, intimate setting of affordable, energy-efficient homes, Cottage Park is a great choice for a starter home or a retiree's next adventure. With nine available floor plans, all built by the craftsman at Herrington Classic Homes, Cottage Park has a relaxed, easygoing vibe and intimate atmosphere. Its charm, however, is getting a lot of attention and it's filling up fast. It may be the perfect choice for you, but it's an option you should consider without delay!
Prefer an even smaller footprint? Our up and coming Mariners Watch townhomes are currently under construction and ready for a walkthrough. Built by Vahue Custom Homes, this amazing new resident option provides quick and easy access to our Marina with stunning water views. Now is the time to reserve yours, so take a look at the available floor plan details and give us a call to tour. 
The Right Home on the Right Lot
Picking the right home lot for you is only the first step on the journey. River Bluffs works with some of the region's most experienced quality builders to ensure that your home is constructed with true craftsmanship and attention to detail. Our 6 builders offer a number of floor plans to choose from, or you can work with the builder of your choice in the creation of a custom home. As always, we're here to help you through the process and find the right combination of builder, home, and homesite for you.
We understand that the setting often dictates the floor plan. Your lot will be unique, both in location and character. The view, the light, and the location all combine to give your lot a character that is all its own. You'll likely want to take all of that into account and choose a floor plan or design that takes advantage of your lot's best features, giving you the highest quality living experience for years to come. With that in mind, now is the time to come down and engage with us and our community. We can help you find the lot, the home, and the future of your dreams right here at River Bluffs.
LEARN MORE ABOUT OUR BUILDERS!
Grow With Us
River Bluff is a dynamic new community, offering something unique and vibrant among the developments in the region. We're building something to last, creating a lifestyle for our friends and neighbors that captures the best of the Cape Fear coast, its natural beauty, and the vibrant entertainment and social options that abound in the region.
Beautiful, natural, inspired by the best of the low country, River Bluffs has it all. There's still time for you to find the perfect home at the perfect location, so get in touch today. Our helpful and knowledgeable staff will show you around and help you through the process of building your future here.