The Exclusive Builder of Cottage Park!
From day one we've envisioned River Bluffs as a unique experience. We've always sought to work with the Cape Fear landscape, the river, and their natural beauty in creating a community that combines the best of everything this region offers. We've also chosen our builders with care, selecting those who meet our visions of quality, sustainability, and beauty. The results speak for themselves: we have a community filled with craft built or custom homes which combine the best of Low Country elegance with all the perks of modern, sustainable construction and detailing. And we couldn't have done it without our friends at Herrington Classic Homes. They've been with us from the beginning, helping our residents create the house of their dreams. We'd like to introduce you to them now and tell you a bit about what they do. We might also talk a bit about Cottage Park, one of our communities designed and built by Herrington, and tell you more about what it has to offer.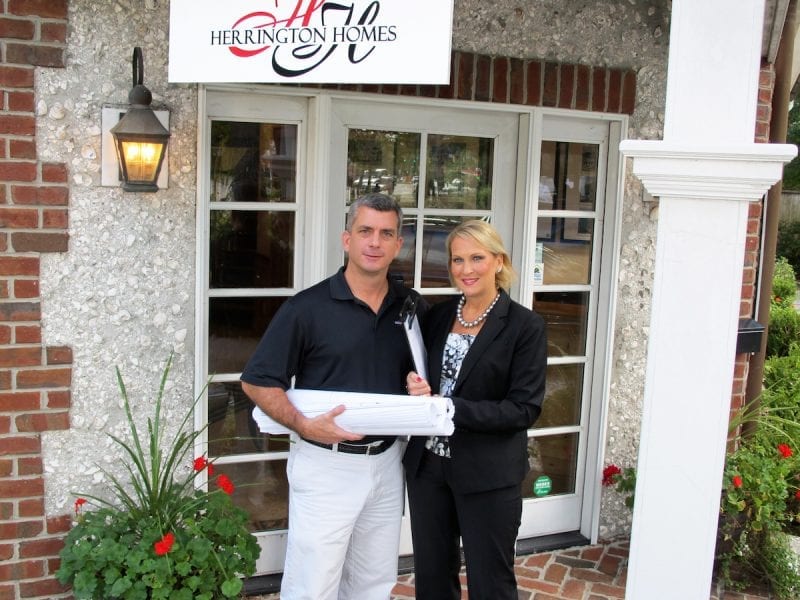 About Herrington Classic Homes
Herrington Classic Homes is more than a business, it's the passion project of owners Craig and Mary Johnson (pictured above). Their vision for Herrington Classic Homes is captured by their motto of helping their customers build their stories. Since 1985, they've dedicated themselves to the art and craft of creating the best custom homes possible for their customers, in the process of setting an enduring track record of high-quality success.
They accomplish this with a customer-driven process that has become a hallmark of Herrington Classic Homes. Operating with the understanding that choosing the right home is one of the most important decisions most people ever make, Herrington Classic Homes centers their design and building process around the individual customer's needs from start to finish. Beginning with the budget and the location, working through floor plan design, through construction, finishing details and the warranty process, Herrington Classic Homes brings Old World quality and attention to the little things to every step of the way.
As part of their commitment to quality, Herrington Classic Homes has also adopted a commitment to energy efficiency and sustainability. As a Certified Green Builder, Herrington Classic Homes has earned certifications and received extensive training from the National Association of Home Builders. With that in place, Herrington Classic Homes employ the current best practices for green, energy-efficient construction with the aim of creating healthy and sustainable home environments. This leads to better internal air quality, a more comfortable home, and savings on utility bills. This commitment to the environment is a perfect fit with our core values at River Bluffs, making this a perfect partnership.
About Cottage Park
Set in one of the most beautiful parts of River Bluffs, Cottage Park began with the goal of creating an affordable and environmentally friendly neighborhood within our community. Comprising of smaller, energy-efficient dwellings created by Herrington Classic Homes, Cottage Park is perfect for those looking for a cozy home in an ideal location. Built with convenience and efficiency in mind, these three and four-bedroom homes range in size between 1600 and 2100 square feet with a number of layouts and exteriors available. And since they're at the heart of our community, Cottage Park residents have easy access to so many of the amenities that make River Bluffs great. We're proud of the work that Herrington Classic Homes has done in building Cottage Park, and we're sure that its residents will enjoy all that it has to offer for years to come.
River Bluffs: At the Heart of it All
Cottage Park is only part of what River Bluffs has to offer. We're a community with something to offer for everyone, from custom-built houses to riverside townhomes. Set on the banks of the Northeast Cape Fear River, our 2,700-foot long riverwalk, marina, and miles of hiking and jogging trails allow our residents to celebrate the natural beauty around them each and every day. Our community offers its residents a host of amenities, and our location puts us at the heart of one of the most beautiful and vibrant parts of the country. With everything from nightlife to beaches to cultural activities within a few minute's drives, River Bluffs is the ideal location for any stage of your journey.
So don't delay. Get in touch today and we'll schedule a visit. We can introduce you to our community and all it has to offer, show you around and let you tour a home or two. Our friendly staff will help you through the process of finding the perfect place to live right here in the heart of paradise. Let's get started and make you our newest neighbor here at River Bluffs!